Nada Nuevo Bajo el Sol
(Satélite-K, 2018)
«When Pau Figueres creates music he aims to recreate the sensations that the music of his favourite artists create in him, in an intuitive process; letting himself go into rhythms and emotions, leaps of faith take him to a new yet familiar musical terrain. Thus the name of the album, Nada Nuevo Bajo el Sol ("Nothing New Under the Sun"): all the music contained in this 14 track album responds to his particular artistic creative process.» In this album the guitarist and composer mixes the organic and basic sounds of the Flamenco guitar, the percussions and the electric fretless bass, with electronic sounds generated by modular synths, keyboards, samplers and electric guitars.
Nada Nuevo Bajo el Sol is more flamenco, more modern, harsher and longer than its predecessor, and stands out particularly due to the fusion of styles and sonic landscapes. The Flamenco patterns are blended with funk, trap, pop and ambience, giving birth to fruitful and creatively very rich combinations. In the track "Nothing New Under The Sun", which could be considered a rumba, he collaborates with the American rapper Blurum13, and in "Mabiche" the Flamenco Cadence and the phrygian universe go hand in hand with trap beats. In the album opening first track and in "Masars II" the Flamenco guitars are supported by the electronic textures of Eloi Flores' modular synth (Winter Modular).
The album also features the brilliant percussionist Arnau Figueres –Pau's brother– and Ismael Alcina, spectacular Gaditan bass player, with whom Pau regularly performs live; following the line-up is Kquimi Saigi on the keys, excellent musician who perfectly channels the malleability of different concepts and sounds; and last but definitely not least, the historic bassist Carles Benavent (featured in the bulería "Los Lobos"), who was a member of Paco de Lucía's band for decades.
Pau Figueres
(Whataboutmusic, 2015)
The self titled album Pau Figueres (Whatabout Music, 2015) is an introduction into Pau's musical world and a first step into developing his own artistic personality. The sounds of his guitars blend together to create rich textures that seem to come from deep rooted Flamenco and modern music influences. Together with some amazing musician friends who infuse the music with incredible groove and excellent taste, Pau offers us 10 songs that resonate with the Mediterranean essence and at the same time offer us a fresh new approach to Spanish guitar playing. The album won the Enderrock Prize for Best Folk Album of 2016 and has had a very warm welcome in the Catalan music scene delighting audiences and critics alike.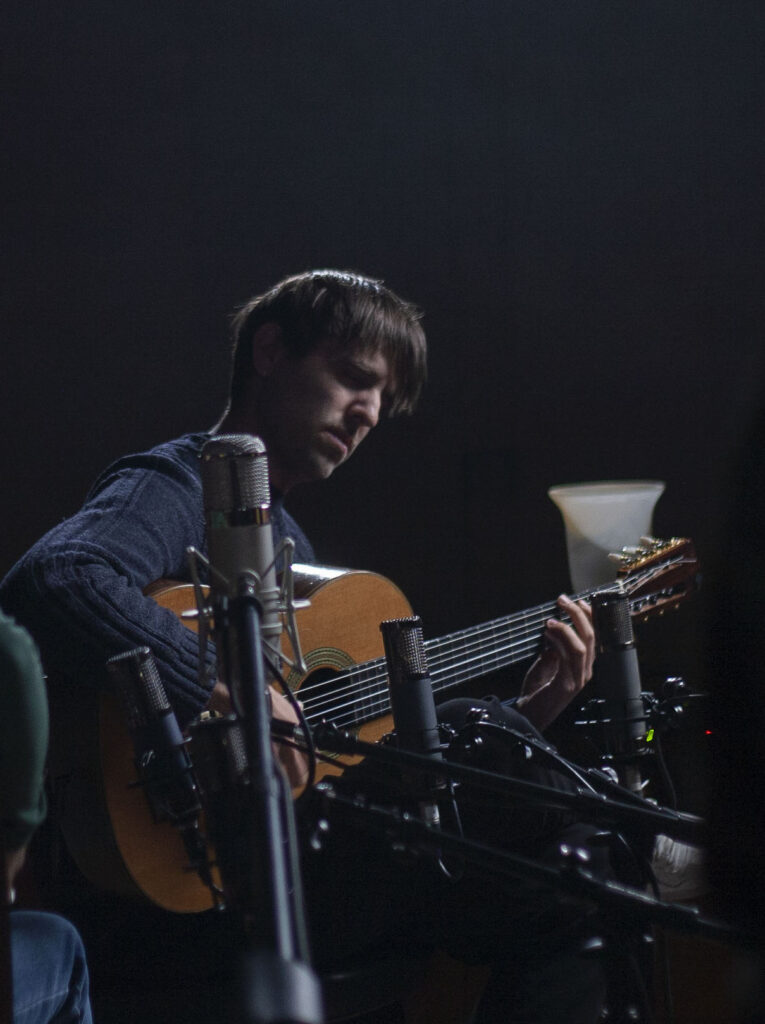 Pau is currently in the process of recording his next album, which will be published early 2024. Amongst other pieces it features a composition called "Latido" dedicated to his late friend and great guitar luthier Arcadio Marín. Once again, he's counting on Aniol Bestit's expertise as an engineer, Arnau Figueres on percussion and co-production of some of the songs as well, and Ismael Alcina on bass.